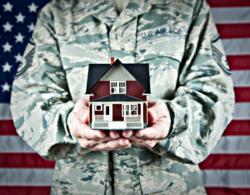 Los Angeles, CA (PRWEB) July 01, 2013
In the spirit of Independence Day values, liberty, freedom and justice, GoBankingRates.com empathizes with the financial obstacles the millions of military personnel and veterans face each day. Managing editor, Casey Bond, says, "While celebrating 4th of July, it's important to remember that American men and women fought to gain our independence as a country, which is why we are launching the Financial Freedom series."
According to the most recent personnel report from the Department of Defense (Feb. 2013), there are over 1.4 million active armed forces personnel. Additionally, according to a report from the US Census Bureau, there were about 21.5 million veterans living in the United States.
Bond explains, "While it's great the financial services industry has recognized the need for military-specific products, there is also a lot of confusion surrounding how they work, when in fact some former and active military families dont realize they are eligble for zero down loans," adding, "VA mortgages, especially, are the source of numerous misunderstandings that can prevent members of the military from receiving financial priveleges they earned through their service."
For instance, Air Force Federal Credit Union tells GoBankingRates, The biggest misconception for people wanting to go with a VA loan is that there are no costs involved. There are costs involved depending on the state there are different VA products the buyer may qualify which may have lower rates and fees.
Michele Velazquez, a Los Angeles resident who served in the Air Force from 1998 to 2003, shared her struggle with GoBankingRates, explaining, "There was an impression [with sellers] that VA loans take way longer to close and the appraisal is harder than other loans. People turned their nose up and called it a 'government loan.'"
Velazquez expresses, "I was actually quite surprised and downright offended that I served my country and couldn't even get people to accept my loan.
Air Force FCU recommends service members choose their realtors and lenders wisely stating, "Although buyers are not going to be versed in VA guidelinestheir realtor and lender should be. Its best to ask the realtor before signing a contract whether or not they are familiar with doing a VA loan.
To find out more tips about VA loans, visit http://www.gobankingrates.com/mortgage-rates/what-you-should-know-about-va-loans/.
About the Financial Freedom Series
This July, GoBankingRates.com, in partnership with Air Force Federal Credit Union, will feature multiple guides explaining the following financial programs, privileges and institutions available to military personnel, veterans and their families:

VA mortgage house financing.
The Military Savings Deposit System (SDP), a 10% APY savings system.
VA impairment compensation plus pension programs.
Special discounts accessible just to service people.
Health plus existence insurance choices (introduced about GoBankingRates.com partner website, GoInsuranceRates.com).
Military financial organizations membership.
About GoBankingRates.com
GoBankingRates.com is a national website dedicated to connecting readers with the best interest rates on financial services nationwide. GoBankingRates collects interest rate information from more than 5,000 U.S. banks and credit unions, making it the only online rates aggregator with the ability to provide the most comprehensive and authentic CD rates and local interest rate information.
Additionally, GoBankingRates partners with a number of major media outlets such as Business Insider and US News & World Report to provide compelling personal finance content. Its expert editors have been featured and quoted on several premier finance websites like Yahoo! Finance, Forbes, The Street, Huffington Post and more.
About Air Force Federal Credit Union
Air Force Federal Credit Union is a not-for profit financial cooperative that takes great pride and honor in the ability of serving the financial needs of military members and their families. Headquartered in San Antonio, Air Force FCU serves the diverse needs of nearly 37,000 members across the United States. Currently, Air Force FCU is running a summer promotion for truth, justice and low auto loan rates. Please visit their site at airforcefcu.com/auto-loans.htm for more information.
Contact:
Jaime Catmull, Director of Public Relations

JaimeC(at)GoBankingRates(dot)com

310.297.9233 x261
Sources:

DoD PERSONNEL & PROCUREMENT STATISTICS, Personnel & Procurement Reports plus Data Files, ARMED FORCES STRENGTH FIGURES FOR FEBRUARY 28, 2013.

United States Census Bureau, Veterans Racial plus Ethnic Composition plus Place of Birth: 2011, December 2012.
Find More Auto Loan Rates Press Releases